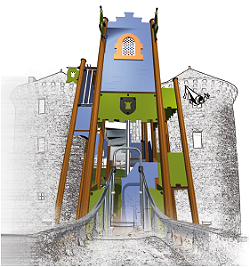 The Fantastic Cities are large-scale multi-purpose towers that can be seen to maximum effect in large urban open spaces.
The towers are immediately identifiable thanks to their carefully worked design, taking children into another era, opening up multiple opportunities for play and fantasy stories.
With their impressive size, majestic combinations of shapes (square, octagonal or cross-shaped), and colours, and rich details, these towers take their users into an imaginary world.
Metropolis is the city of the future, in which ultra-modern architecture combines with mechanical elements of a bygone age. The portholes, propellers, periscopes and gears provide strong visual effects that give full rein to creative imaginations. The big towers turn into laboratories for exploration, time machines or modern-day vessels.
The Medieval City with its tall towers conjures up a wonderful imaginary land where knights and princesses occupy the key roles. Within the Amazon Village, children soon turn into explorers, real modern-day heroes following in the footsteps of Indiana Jones.
The design of the Amazon towers includes Mayan relics as well sacred totems representing animals and mythical creatures.